1980
---
Over Stampi srl, a company founded in 1980, has forty years of experience in manufacture of moulds for the footwear industry.
The company headquarters are located in the Vigevanese district, a worldwide famous production center specialized in footwear manufacturing.
From the beginning, the company was able to face the technological challenges by investing in the transformation and modernization of its structure thus keeping up with the industrial revolution.
2000
---
We have further expanded since 2000 by structuring the sales network and with the help of the second generation developed new production methods by the use of hardware and powerful CAD-CAM software, which in its turn allowed us to design three-dimensional moulds.
2015
---
In 2015 we acquired a second production site of 1500 square meters using it exclusively as a CNC department. The total area of production thus became a total of 3000 square meters.
Our company currently has 13 numerically controlled machines with pallet changer, a technology that allows 24-hour production. Seven of these machines are 5-axis, an additional and sophisticated tool that allows us to work on very complex figures and obtain a finished mould from the raw piece without any human intervention.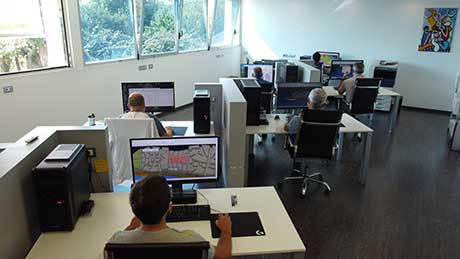 Today
---
We are able to produce moulds for footwear of all types, having a wide and diverse clientele from many countries around the world.
We are undisputed leaders in the safety sector collaborating with the most important global brands in the sector. Thanks to our experience and technological structure we are able to meet the needs and demands of similar sectors such as "trekking" "leisure" or "fashion".
OVER STAMPI srl
---
Via Circonvallazione 20/E, Z.I. Molino del Conte, 27023 Cassolnovo (PV) – Italia
---
Tel. +39 0381.92279
---
Fax +39 0381.92147
Call us or use the contact form to request more information about our products and services.
---